Sunday, October 10, 2004
L'islamisme en guerre totale contre l'Occident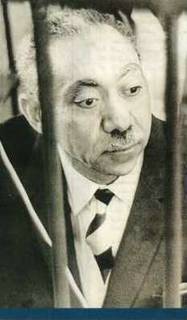 Sayyid Qutb

Sayyid Qutb des Frères Musulmans
(1906-1966) est un auteur décisif pour comprendre l'islamisme radical, ses notions et ses objectifs
Pour la plupart d'entre nous, citoyens des pays occidentaux, l'islamisme radical est une découverte encore récente. Il aura fallu le 11 septembre, les talibans, Al-Qaeda pour que nous commencions à entrevoir la profondeur et la puissance du conflit qui s'installe. Pourtant, depuis plusieurs décennies, un penseur égyptien avait déjà élaboré les fondements de cette guerre. Une guerre totale, à ses yeux, presque un conflit cosmique, indissociablement mystique et politique.
Lire la suite
Sayyid Qutb, 1906-1966, an Egyptian and a member of the Muslim Brotherhood
, was a prominent Islamist (revivalist) figure whose career spanned the middle decades of this century. His thought, deeply influenced by Mawdudi's revolutionary radicalism, falls into two distinct periods: before 1954, and from 1954 on during which he suffered imprisonment and torture in Nasser's jails. Following the attempt on Nasser's life in October, 1954, Nasser rounded up large numbers of the Muslim Brothers, including Qutb, and put an official ban on the organization.
Lire la suite